Welcome to Tom Jon's Catering!
Please Call 314.865.3800 For Special Events or Wedding Menus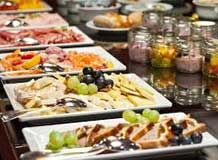 For over 43 years Tom Jon's Catering is one of the St. Louis Area's most respected full-service, off premise catering companies.
We have successfully catered all types of special occasions and events.
We have handled everything ranging from small in-home casual gatherings, to simple or extravagant weddings, to large corporate events with thousands of guests.
Tom Jon's personally handles all catering related services including customized gourmet menus, a professional service staff, location selection, rentals, linens, floral arrangements, entertainment, event themes, audio and visual and more.
Please feel free to contact us if there is something that you would like and do not see on any of our menus.
With Tom Jon's, you can be assured of exceptional service and complete attention to detail.
Whatever your occasion, we'll make sure you enjoy a fun,
worry-free event. Call us today at 314.865.3800
Serving St. Louis Since 1972